Shenandoah Whitehall

A family boat for oar and sail


Based on a classic New York Whitehall in the Mystic Seaport collection, the Shenandoah Whitehall is a much lighter and easier to build SOF adaptation, superb as a rowing craft, and capable as a sailer with the addition of a simple spritsail rig. She's 13' 6" long, with a beam of 47", constructed of marine ply and cedar or redwood stringers. Skinned with 8oz polyester, the rowing version weighs about 55-60lbs, with full floatation under the thwarts. She's relatively easy to carry and cartop - no trailer necessary!
A simple spritsail can easily be added for no-hassles offwind sailing, and the further addition of a daggerboard and rudder will complete her transformation into a true sailing craft - one that will still row very sweetly, indeed!
Don't take my word for it, though - check out this review by the author of "Rowable Classics": --- "As you know, I had the great pleasure of test-rowing your Shenandoah Wherry for full week in Maine this July. During that time I put her "through her paces" in all types of water conditions from heavy chop to smooth water. I'm happy to report that she performed admirably, even in a quartering sea, and was extremely "well mannered" in all conditions. Handling her on land was also a great pleasure because she weighs so little compared to similar boats. And speaking of comparing her to other boats: I tested her for real-time speed against an Eddon Gig (Whitehall) which is almost exactly the same length and width, and very similar hull configuration. I used the same Garmin Forerunner 305 GPS device attached to each boat, in turn, to get actual speed readings and rower heart rate, as an indicator of energy output. So here's what I discovered: at exactly the same time of day, on the same stretch of the river, using the exact same oars and the same GPS device—and producing the same heart rate, I found that your Shenandoah Whitehall was nearly twice as fast as the Eddon Gig which is a rather heavy fiberglass lay-up with wood rails! Not that speed is the only issue, per se, but by simple logic, the Shenandoah Whitehall should require only about half it takes to row a more typical fiberglass or wood Whitehall. It also requires much less to move it around on land as well! (Or hey—put another way, you can row twice as far on the same bowl of Wheaties—and who doesn't like THAT idea!) Best regards, Dr. Darryl. J. Strickler" ---
Some pics of the prototype, afloat on the Shenandoah River: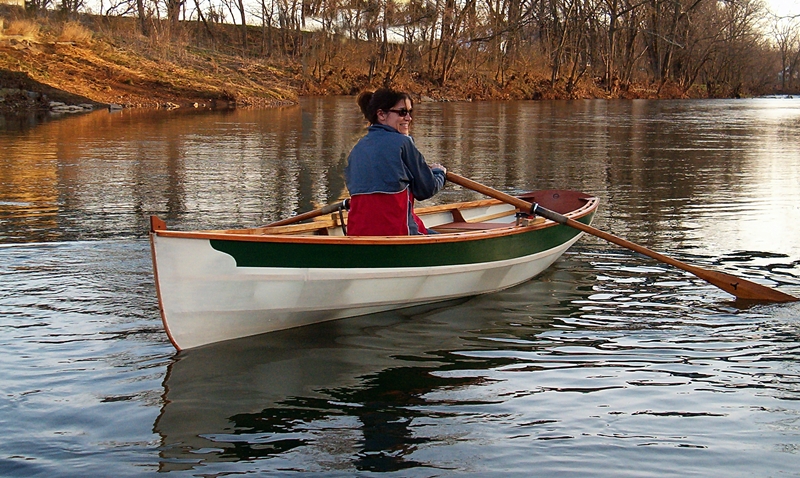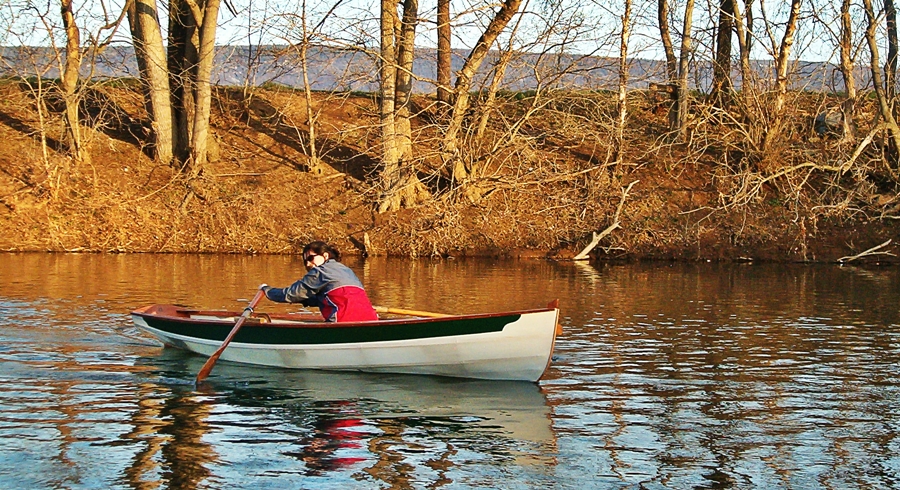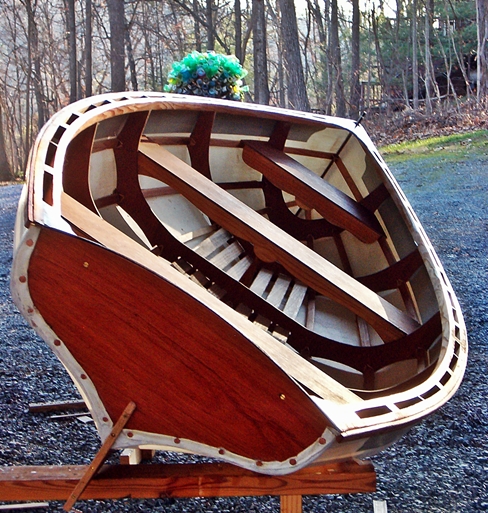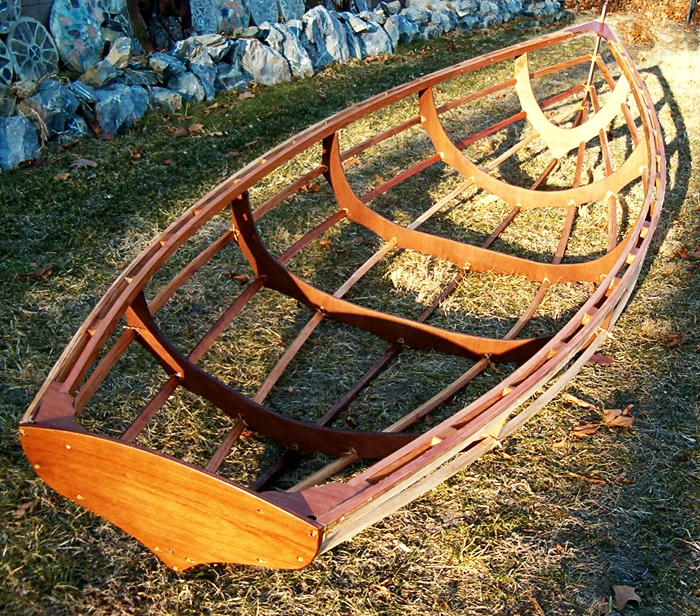 Back
Home